Russia's "Hybrid" War - a Challenge and Threat to Europe, The Razumkov Centre latest publication
Kyiv, Ukraine, July, 3, 2017
Dear Colleagues,
The Razumkov Centre would like to present our latest publication dedicated to Russia's "Hybrid War"; Common identity of Ukrainian citizens.
Russia's "Hybrid" War - a Challenge and Threat to Europe
The Razumkov Centre is pleased to announce the National Security and Defence journal No. 9-10, 2016 "Russia's "Hybrid" War - a Challenge and Threat to Europe", which outlines general trends, specific methods and means of "hybrid" warfare that Russia conducts in Europe and worldwide; evaluates "vulnerabilities" of the Western world; and summarizes the Ukrainian opposition to Russian "hybrid" aggression in various spheres. The publication also contains the results of nationwide public and expert surveys, as well as interviews and articles by leading Ukrainian and foreign experts.

In journal you can find Informational and Analytical Materials; Expert Interview and Survey; Sociological Survey; The Roundtable Discussion and expert articles.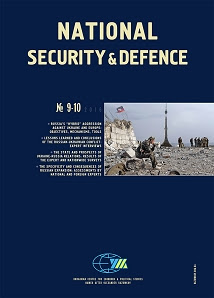 The electronic PDF version of the journal is published at
http://razumkov.org.ua/uploads/journal/eng/NSD167-168_2016_eng.pdf
Consolidation of Ukrainian Society: Challenges, Opportunities, Pathways
We are also glad to inform you that the other issue of the National Security and Defence journal was issued - No.7-8, 2016. It is the second publication of the long-term project "Formation of a Common Ukrainian National Identity under the New Conditions: Features, Prospects and Challenges".

The journal has shown that Ukrainian society should implement a systemic policy of national identity formation. There is a public request for a shared national idea for all citizens. Overcoming social and economic problems, improving living standards, fighting corruption, qualitative changes in government authorities, more equitable distribution of public goods are among the priority measures that will contribute to the consolidation of society.

Among other things, the journal presents its informational and analytical materials based on the results of sociological survey and focus group studies, which characterise citizens' perception of certain identity aspects, views on the grounds for consolidation and the dividing lines in the Ukrainian society, their attitude to possible approaches to state policy in the socio-cultural area.




The electronic PDF version of the journal is published at http://razumkov.org.ua/uploads/journal/eng/NSD165-166_2016_eng.pdf

Best regards,
The Razumkov Centre